Dirasha
Sasetä dəräytä [ላሌተ ድረይተ, Dirayta songs]. Gidole: Dirayta Bible Translation and Literacy Project (EECMY South West Synod & SIL), 2001.
» View book
Hadiyya
Galaxxi mazmuulluwwa [ገለጥ መዝሙሉወ, Songs of thanks]. Edited by Ruth Cremer and Belete Loriso. Bobicho: Kale Heywet Church, n.d. [1993].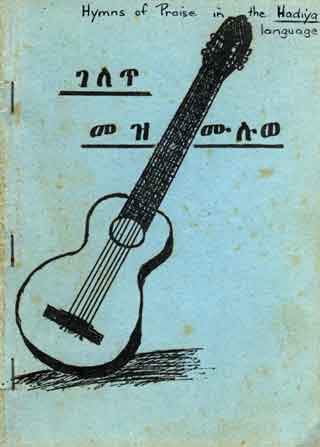 » View book
Waa'i galaxxamona: Hadiyyi amma'nnaa'n wixxixxi mazmuulluwwa [Thanks be to God: Hadiyya congregational songs]. Edited by Stefan Ritter et al. Addis Ababa: Rehobot Printers, 2013.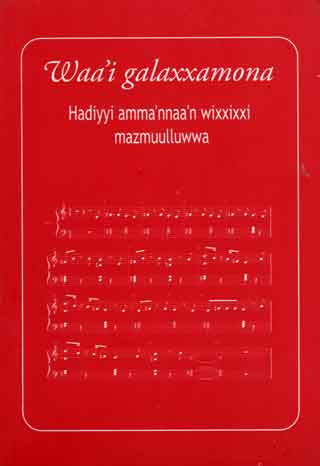 » View book
Konso
Mäsmurewä afä šonso [መስሙሬወ አፈ ኾንሶ, Songs in Konso language]. EECMY South West Synod, 1st edition, 1992; 2nd edition, 1994.
» View books (1st and 2nd edition)
Wätafä mäsmuretä aafä šonso [መታፈ መስሙሬተ አአፋ ሾንሶ፥ መታፈ አ2ተ, Konso song book II]. EECMY Konso Bible Translation and Literacy Work, 2014.
» View book
Sidaama (Sidamo)
Sidamu farsa [ሲዳሙ ፋርሳ, Sidaama songs]. Hawassa, 1977/78 (1970 AM).
» View book
Somali
Qasiidooyin Ilaah Ammaan Ah [Songs of Praise to God]. 50 songs.
Nairobi: Codka Nolosha Cusub, 1993.
---
INVITATION
Users of this website are invited to inform us about additional important study resources.
» Please use the contact form below
to get in touch with us.