Solomon Araya, who was born on September 16, 1945, lives in Addis Ababa and worships in the Ethiopian Evangelical Lutheran Church [Bibeltrogna Vänner]. That is where his parents, Mr Araya Habte-Egzy and Mrs Meaza Tesfa-Mariam, and his three brothers and two sisters were active members.
Every evening after dinner, the whole family used to come together to sing, read the Bible, and to pray. The parents themselves always sang at home songs of their childhood. They encouraged their children to sing together and enjoyed watching them practising before going out to sing in public.
God blessed the devotional life of the parents, which influenced the children to practice personal quiet time, family prayer, and to serve the church through singing and active participation in Christian youth groups.
Three of the children used to play the organ for school assembly and church services since their childhood. Solomon and Eyob used to play the guitar while Yohannes played banjo-mandolin. In addition to singing in their church, they were invited to sing in churches of various other denominations, schools and theatre halls for worship, for raising funds for Bible Society of Ethiopia and other charitable purposes.
Radio Voice of the Gospel and Yemisrach Dimts were instrumental in disseminating the songs throughout the country and abroad. As a child, Eyob was involved in Yemisrach Dimts Radio Service in broadcasting biblical messages and in performing drama focusing on children and the youth.
Outside the family choir, Solomon used to conduct the Ethiopian University Students Christian Fellowship (EUSCF) Choir. The choir travelled to some parts of Ethiopia (including Sidamo and Wollega) and sang in schools, churches and hospitals. The Director of the Mekane Yesus Youth Hostel, Mr Knut Sigurd Aasebø, provided vital support to the EUSCF Choir, especially in organizing tours to various parts of the country. God blessed and touched the lives of people who listened through radio and through attending meetings and conferences. People in mourning also found some comfort through the songs.
Yohannes and Solomon sang as part of the men's group called "Gospel Singers" for the Ethiopian Television. Yohannes, as a committee member, representing the Lutheran Church in Ethiopia, played a significant role in editing the Amharic Hymn Book, Səbhat lä'amlak [Q: Which editions: 1962 AM and/or 1965 AM?]. 
Solomon has conducted the Mekane Yesus Hibret Choir at different times and has played the organ for some of the Sunday church services.
Praise be to God for His mercy, love and blessings.
Albums
(1) Yä'arə'aya betäsäb [የአርአያ ቤተሰቡ, The Araya's Family]. Vinyl, 7″ with Amharic gospel songs. Amha Records – AE 630 [sleeve mistakenly: AE 230]. Recorded in Addis Ababa, 1971 [1963 AM; released in Jan. 1972].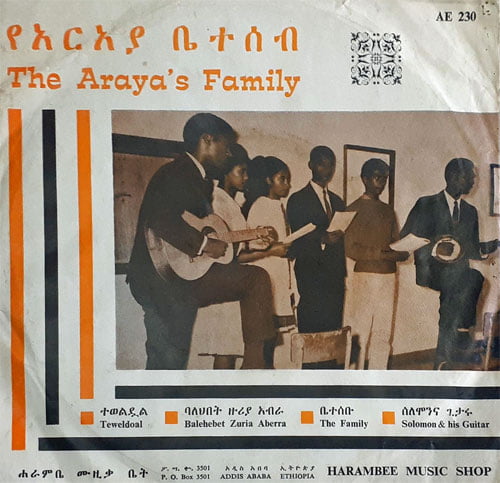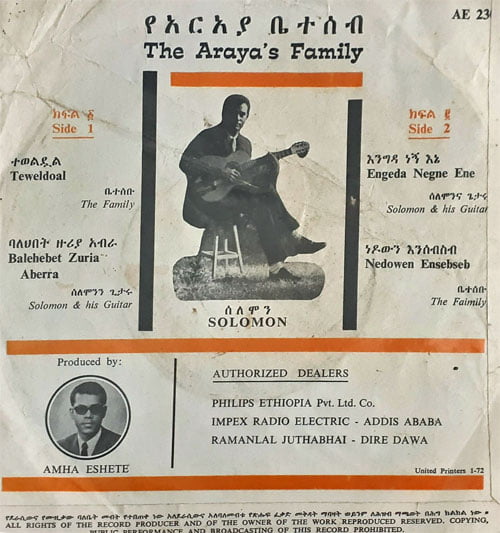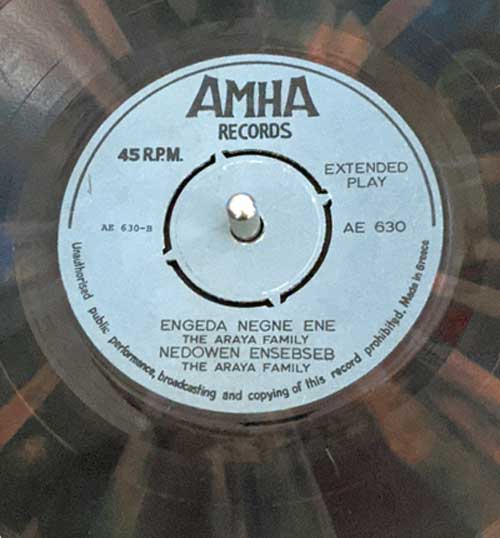 (2) Yä'arə'aya betäsäb mäzäməran: Mänfäsawi mäzmročč [የአርአያ ቤተ ሰቡ መዘምራን: መንፈሳዊ መዝሙሮች, The Araya Family Choir: Spiritual songs]. Vinyl, LP with Amharic gospel songs. Amha Records – AELP 70. No place and date indicated. [Addis Ababa, 19_ _]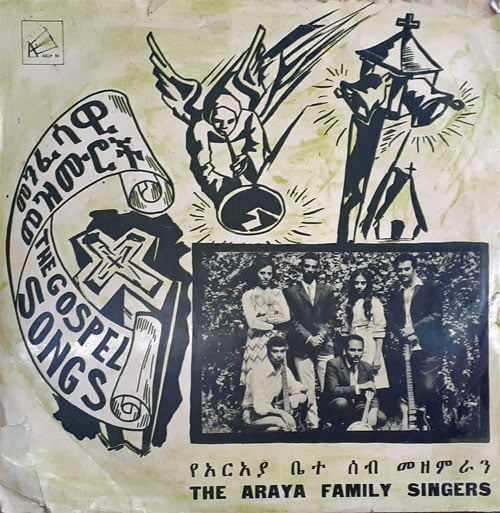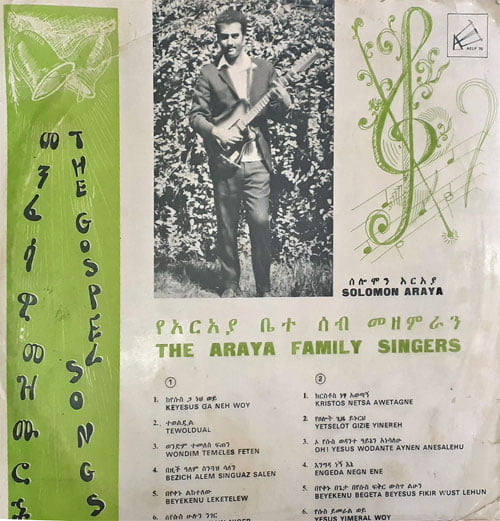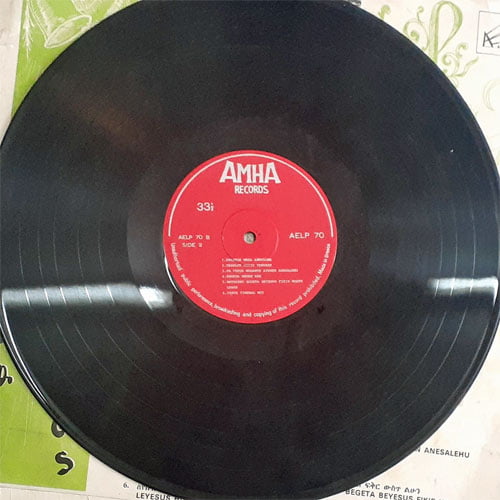 Networking
» Follow Emnet Araya on Facebook
» Follow Eyob Araya on Facebook
» Follow Solomon Araya on Facebook
Songs in hymnbooks
» View lyrics
Audio (YouTube)
» Listen to album and songs
Picture