[No author found yet for the profile.
Please use the contact form below to get in touch with us.]
History and ministry
Gullele is a subcity of Addis Ababa
Gospel songs in Oromo language
---
From Launhardt (2004), Evangelicals in Addis Ababa, p. 222-23:
"The Gullale MY congregation came into being in connection with the Trainees' Residence and Evangelical Centre built up in Addis Ababa Gullale by the German Mission, in 1968. […] Regular evening devotions and Sunday services were conducted for the hostel residents by the director and the warden.
[…., p. 223] The social, educational, and spiritual work at the LHH [Ludwig Harms Hostel] and in the neighbourhood spread and was deepened thanks to the efforts of Ato Desta Buba and Olani Homa. […] In pursuit of the Agreement of Integration Policy, signed in 1969, the Louis Harms Hostel was transferred to the ownership of the ECMY Western Synod which was related both to the work of the German Hermannsburg Mission and the Swedish Evangelical Mission. As of January 1971 the Gullale congregation became a member of that Synod."
---
The Congregation's "C" Choir has also published albums and music videos
Not clear about the relationship with "WKWWMYI- Waldaa Amantoota Oromoo Finfinnee" (on one music video by GHM Media they wear similar choir gowns)
Albums
(1) _ _ _ [_ _ _]. Cassette recorded by _ _ _ in _ _ _
(2) Waaqayyo da'oo keenya [Wake up and bring rain]. Cassette recorded by _ _ _ in 2010 [2002 A.M.?]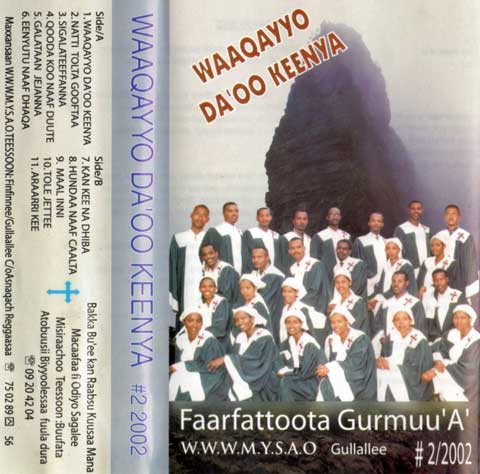 Networking
» Follow "Gurmuu C Gullallee" on Facebook
» Visit Mandara Kooluu's YouTube channel ("C" Choir member)
Audio
Albums/ collection
Songs
Video
"A" Choir
published in 2019:
---
"C" Choir
2020:
Further reading
Launhardt, Johannes. Evangelicals in Addis Ababa (1919-1991): With special reference to the Ethiopian Evangelical Church Mekane Yesus and the Addis Ababa Synod. Münster: Lit Verlag, 2004.