At present, the following five Deaf Christian communities in the Ethiopian Evangelical Church Mekane Yesus have a well-organized choir: Addis Ababa, Hossana, Hawassa, Arba Minch and Nekemte. (There are a few Deaf gospel choirs in other denominations, e.g. in a Mulu Wongel and in the Emanuel Baptist congregation in Addis Ababa.)
The first Deaf Choir was started in 1985 by three teachers at Hossana School for the Deaf, Asmelash Oqube Mikael, Asefa Guta and Bahiru Tamiru.
The Hossana Choir sings every Sunday in the Deaf Christian Community Chapel and on weekdays in the Deaf School morning devotions. The group also performs once a year in the Hossana Mekane Yesus congregation on the assigned Sunday Worship with Deaf People (i.e., the Sunday following the Easter Holiday).
Usually, the Deaf Choir sings songs from the Church's hymnbook, Sebhat LaAmlak. The singers use Sign Language, wear choir robes and practice body movements. Musical instruments are rarely used.
The number and visibility of deaf Christians have been increasing significantly during the last years. Deaf Christians in Ethiopia do not form their own congregations but worship under the umbrella of local congregations that offer them rooms for their worship programs.
Former teacher Bahiru Tamiru is the first deaf person in Ethiopia who was called to the ministry of Word and Sacrament. Rev. Bahiru is now heading the Deaf Outreach Ministry of the Ethiopian Evangelical Church Mekane Yesus.
Video
Pictures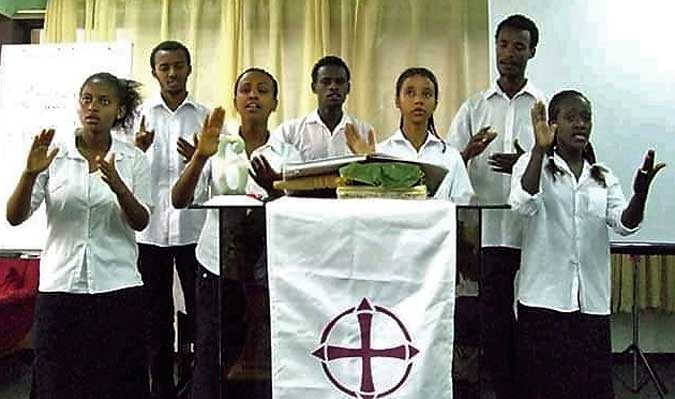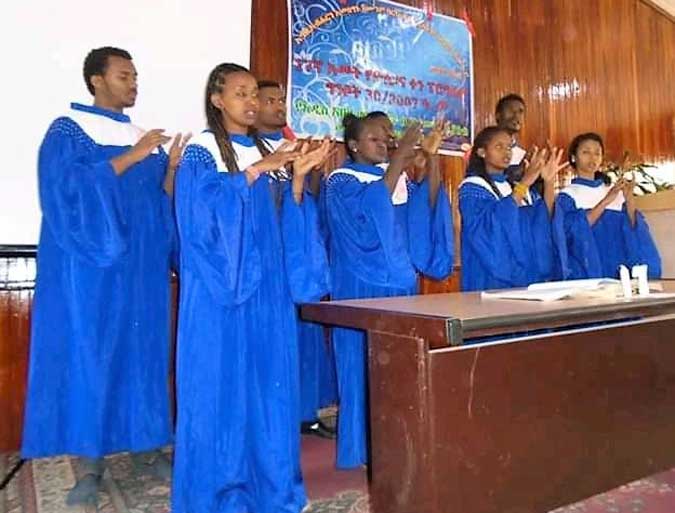 Networking
» Follow Hossana School for the Deaf on Facebook
» Follow Rev. Bahiru Tamiru on Facebook
Further reading
Bahiru Tamiru (2010). EECMY and Deaf Mission: Hope and Challenges. BA essay. Addis Ababa: Mekane Yesus Seminary.