[No author found yet for the profile.
Please use the contact form below to get in touch with us.]
History and ministry
According to the website EthiopianOrthodox.org, Yätäməro masətämar mahbär [የተምሮ ማስተማር ማኅበር, Association of the Educated to Educate] was a pioneer to produce Orthodox gospel songs in Amharic during the 1950s [AM, i.e. ca. 1958-67 AD).
---
From Shenk, Development, p. 267f:
"This society existed in embryonic form since 1947 when a student group at the Tafari Makonnen School met for Bible study and to promote better relationships among students. In April 1957 it was officially organized by students from Tafari Makonnen and Empress Menen Schools. Its headquarters was at Miskaye Hazunan Medhane Alem Church, with [p. 268] Hana Jima as father and Crown Prince Asfa Wossen as honorary head.
The association conducts Sunday school for children and monthly programs on family and social life for parents; there are evening classes for clergy, summer courses for children, and lectures for young people. Recreational activities, a chorus [i.e., choir], and a library were organized. With assistance from Ethiopian Red Cross and Haile Selassie I Foundation, it gave welfare to the poor and prisoners. At the celebration of Timket it ministers to worshippers assembled
in Addis Ababa."
---
The association was re-established in the last decade.
Albums
(1) _ _ _
(2) _ _ _
(3) Mäzmur täwahədo. Vol. 3: Nəgus täwälädä [መዝሙ ተዋሕዶ: ንጉሥ ተወለደ (Ethiopian Orthodox) Tewahedo hymns: A king was born]. CD by the former members of Temero Mastemar and Meserete Haimanot Spiritual Association's Choir in London. [No date indicated]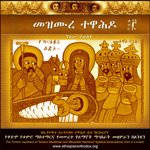 Networking
» Follow Temro Mastemar on Facebook
» Visit Temro Mastemar's YouTube channel
Audio
» Listen to vol. 3 (EthiopianOrthodox.org)
Video
published in 2020:
2021:
Further reading
Shenk, Calvin E.. The Development of the Ethiopian Orthodox Church and Its Relationship with the Ethiopian Government from 1930 to 1970. Ph.D. dissertation. New York University: School of Education, 1972. [p. 267-69]