[work in progress]
Alemu Aga Robe was born in the Shiro Meda area of Addis Ababa in 1950. He started learning and playing the በገና (bagana; 'box lyre') at the age of twelve while he was a student at the Amha Desta (later renamed Entoto Amba) Elementary School. Alemu's neighbour and bagana teacher was Aleqa ('Master') Tessema Wolde-Amanuel. Aleqa Tessema had been ordered by Emperor Haile Selassie I to come to Addis Ababa to teach him and promising students to play bagana.
The bagana is also known as the Ethiopian Harp or the Harp of David. Tradition tells the harp came to Ethiopia during the times of King Solomon of Israel and Queen Sheba of Ethiopia (almost 3000 years ago). For centuries, this 10-string instrument has been used by Ethiopian kings and queens and in the Ethiopian Orthodox Church for prayer and meditation. Many listeners find the sound of the bagana soothing, calming, humbling and soul-searching.
The bagana is not played during the liturgy. It is a solo instrument never performed together with other sacred musical instruments such as sistrum and kebero (double-headed drum), let alone secular instruments like krar (bowl-shaped lyre) or masenqo (bowed lute). The bagana is regularly broadcast on the radio during Lent.
There are two types of bagana songs: salamta ('greetings') uses biblical or doctrinal (Q: confessional?) texts, whereas samena warq ('wax and gold') denotes short double-layered poems. The themes of Alemu Aga's bagana songs include God's glory and His works, the Trinity and creation, human being's mortality, Christology (incarnation, crucifixion, second coming), the symbolism of the bagana, the Lord's Prayer and the life of Emperor Tewodros II.
Alemu Aga does not write new lyrics but uses mainly the Amharic songbook of the 20th century Ethiopian Orthodox theologian Admassu Jembere (Mälʾakä Bǝrhan). Alemu Aga is a role model in that he spares no effort to learn from wise theologians. As a result, his songs are theologically deep and profound.
Alemu Aga earned a degree in geography at Haile Selassie I University (now Addis Ababa University) in 1972 and then taught at Yared School of Music for eight years. He introduced the bagana class but stopped teaching in public and opened a shop when the anti-religious regime banned the bagana in 1980.
In _ _ _ (year?), Alemu Aga restarted playing the bagana for listeners both in Ethiopia and abroad. He performed at more than 60 music festivals in Africa, Europe and North America. His English, French and Italian language skills helped him introduce bagana music and songs to an international audience.
Alemu Aga was bestowed the ecclesiastical title መጋቢ ስብሃት (Megabi Sebhat; '_ _ _' [Engl. equivalent?]) by two bishops in _ _ _ (year?). Alemu Aga is a member of the World Harp Congress, representing Ethiopia and the bagana. His recordings, performances, teachings, mentoring and research were instrumental in reviving bagana songs in Ethiopia and beyond.
Albums
» View discography
Networking
» Follow "Alemu Aga & the Harp of King David from Ethiopia" on Facebook
Audio
» Listen to musical presentations
Video
» Watch musical presentations
» Watch interviews
Documentary
2021:
Pictures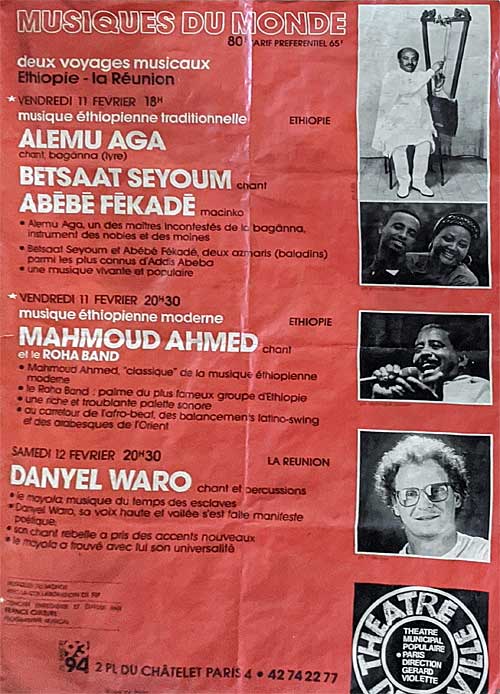 Lyrics
Admassu Jembere (_ _ _ [Year?]). መዝሙረ ሐዋዝ ዘምስለ መሰንቆ ሃይማኖት እንተ ለብሰዋ ሰማዕት ("Sweet Song which is with the Lyre, that Faith that the Martyrs Put on" [translation?]). Addis Ababa: Tinsae Zegubae Printing Press.
[_ _ _ read online?]
Admassu Jembere (1914). የበገናመዝሙር ምስጢረ ሃይማኖት ዘይነግር ("Bagana Songs and Religious Secrets"). N.p
» For an English translation of selected songs and their
music notation, see Timkehet Teffera (2019)
on academia.edu.
Further reading
Alemu Aga (2000). "The Begenna — A Unique Cultural Heritage," Institute of Ethiopian Studies Bulletin 21-22: 5-12.
Kimberlin, Cynthia Tse (2003). "Bägäna," in Encyclopaedia Aethiopica, vol. 1, edited by S. Uhlig, 436 – 438. Wiesbaden: Harrassowitz Verlag.
Lacombe, Claire (2007). "Éthiopie, les chants de bagana," Cahiers d'ethnomusicologie 20: 355-357. [Review of album ed. by S. Weisser; read online version]
Timkehet Teffera (2019). "Perception, Interpretation, and Spirituality: The Tranquilizing Sound of the Ethiopian Box Lyre Bägäna and its Revival", in: G. Jähnichen (ed.), Studia Instrumentorum Musicae Popularis (New Series) 6: 301-346. Berlin: Logos.
» Read online
Weisser, Stéphanie (2005). "Etude ethnomusicologique du bagana, lyre d'Ethiopie." PhD dissertation. Brussels (Belgium): Université Libre de Bruxelles.
Weisser, Stéphanie (2007). "Le bagana, instrument de musique et de prière amhara (Éthiopie)," Annales d'Éthiopie 23: 61-76.
» Read online