[work in progress]
In 1970 a revival movement arose among the Gore on-campus [Q: highschool?] students in Illubabor in the western part of Ethiopia. This revival spread quickly and grew the church membership from about ten committed members to over half a million members [i.e., current membership figure in their Synod(s)?]. This is the context into which the two songwriters, Meseret Tsige and Endalkachew Kidanewold were born.
[Q: Add year of birth of Meseret & Endalkachew?]
Meseret joined the church [i.e.: Gore Bethel Mekane Yesus Church?] and was baptized in June of 1970. Her husband and longtime ministry partner, Endalkachew, came to the Lord in May of 1969 and joined the choir [Q: Was it a highschool choir or a congregation choir?] that same year, under the leadership of missionary Lily Hultgren
[Q: Are both Endalkachew & Meseret originally from the Gore area? Or did they come to Gore because of their studies?].
Lily Hultgren and her husband, Kurt, were American [Presbyterian?] missionaries stationed in Gore at the time of the revival. Lily was a gifted musician and taught Endalkachew how to play the guitar, harp, piano, and accordion. The accordion became his favorite instrument.
Meseret and Endalkachew were married in August of 1974, and they began to serve together in 1977 after Endalkachew joined the Mekane Yesus Seminary in Addis Ababa as a student.
They ministered via Amharic songs in different provinces and cities
[Q: Consider adding 1 example. Is there any Mekane Yesus spiritual conference that they remember with special gratitude? In which town and year?]
in Ethiopia during school breaks from the seminary, and their ministry continued after graduation. Their songs influenced many lives in those days, as many people still fondly remember them to this day. They served not only in Mekane Yesus congregations but in other Christian denominations as well
Their ministry as a couple flourished during the persecution era of 1977 to1988. They then moved to the United States, where they continue to live today.
[Q: Did they stop their singing ministry after their move to the US? Add a word about Endalkachew's (and Meseret's?) profession / ministry in the US?]
As part of this revival movement, everyone read and studied their Bibles diligently and as did Meseret and Endalkachew. Endalkachew's first song was a translation of an English gospel song "Put your hands in the hand of the man from Galilee" (እጅህን ለናዝሬቱ የሱስ አስረክበው). Their first two songs as couples which were known among evangelical Christians was: "I Will Carry My Cross and March Toward Zion" and "Jesus Warms My Heart for Your Love and Helps Me to Live for Your Glory" (መስቀሉን ይዤ እጓዛለሁ ወደ ጽዮን ተራራ እና; የሱስ አሙቅ የልቤን ፍቅር ልኑር ላንተ ክብር). A later song composed by Meseret, very well known today among evangelicals, is "the Lamb of the New Testament" (የአዲስ ኪዳን በግ). This song found its way into the mainstream songs of Sebhat LeAmlak and is now part of the liturgy book of the Ethiopian Evangelical Church Mekane Yesus. Another song, "Your Fame is Known Universally" (ዝናህ የገነነው በዓለም ላይ), is also well-known.
Later on, he composed more songs such as "Make Me an Aroma of Life" (የሕይወት ሽታ አድርገግኝ), and one of the familiar songs "He Shall Come Back in the Clouds" (በደመና ይመለሳል). Although Endalkachew wrote a few more songs of their recorded albums, Meseret was the main gifted gospel songwriter, and Endalkachew was the musician.
Endalkachew's and Meseret's songs address salvation in the Lord Jesus Christ. But they also sing about how Christians ought to live their faith and be witnesses even in social and political environments, such as the persecutions under the Communist regime and the anti-religious atheist ideologies. The songs are of God's grace and faith in Him, giving encouragement and testimony to God's deliverance, lifting up praise and worship, but also warning of the perils of worldliness.
Albums
[Q: Did they record cassettes in the 20th century?]
(1 ?) Yä'adis Kidan Beg [የአዲስ ኪዳን በግ, Lamb of the New Covenant]. CD released by _ _ _ 2010.
» Read lyrics on WikiMezmur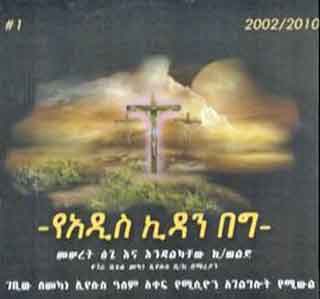 (2) Zenah Yegenenew [ዝናህ የገነነው, Your reputation is built]. CD released by _ _ _ 2011.
» Read lyrics on WikiMezmur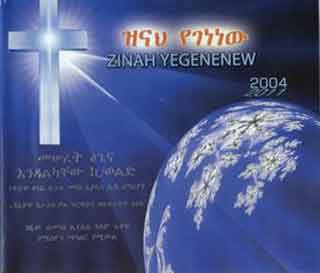 ? Lyrics ?
[Q: Besides the lyrics on WikiMezmur and the songs printed in hmynbooks, is there any manuscript with the lyrics of Meseret & Endalkachew's songs? E.g., a hand-written notebook?]
Songs (written by Meseret Tsige) in Hymn Books
Səbhat la'amlak (2007)
No. 147, 333.
Mert Mazmurat (1975ff)
5 songs L&M: vol. 4:3, 4:11, 4:26, 5:33, 5:37
God is Here (1981)
Networking
» Visit YouTube channel "Meseret & Endalkachew Songs"
Audio (YouTube)
» Listen to albums
» Listen to songs
Video
published in 2015:
Interview
Meseret Tsige (published in 2012):
Pictures
[? Any (old but sharp) picture showing them singing ?]
Further reading
Endalkachew Kidanewold. Healing Wounds of Ethnic Conflicts Through Feet-Washing. Conneaut Lake, PA: Page Publishing, 2022.
(= Doctor of Psychology dissertation. Denver, CO: University of the Rockies, 2017.) [View preview at ProQuest; Google Books]
[? Any relevant seminary paper / article, interview, etc. in English, Amharic or Afaan Oromo?]