Mitiku Halgete Dinola was born in Jarso village in the Konso Zone of the Southern Nations Nationalities and Peoples Region in 1982. He grew up in a Christian family and started singing in the local Mekane Yesus choir in 1995. Mitiku began solo singing after receiving his first songs in 1998. He also plays guitar and keyboard.
Mitiku served as a youth and worship leader. He earned diplomas in clinical nursing as well as computer science. In 2011 he got married to Asegedech Ayano, a secondary school teacher. The family served in outreach ministries in Northern and Eastern Ethiopia. After his degree in theology at Tabor Evangelical College (Hawassa), Mitiku led the Mekane Yesus Konso Parish Bible School.
Mitiku and Asegedech released a cassette with gospel songs in Amharic and Konso. It comprises a variety of compositions, some capturing Konso culture. The songs are based on the Word of God and the divine love of God. They intend to comfort and bless the listeners and to help them have a close relationship with God. The album was donated to Konso Addis Ketema Mekane Yesus Congregation to support its Gospel work.
Album
(1) Yäwängel adära [የወንጌል አደራ, Committed to the Gospel]. CD with gospel songs in Amharic and Konso; recorded by GL Studio, Konso, 2021. [Konso song title: Xano Waka enaa toripa]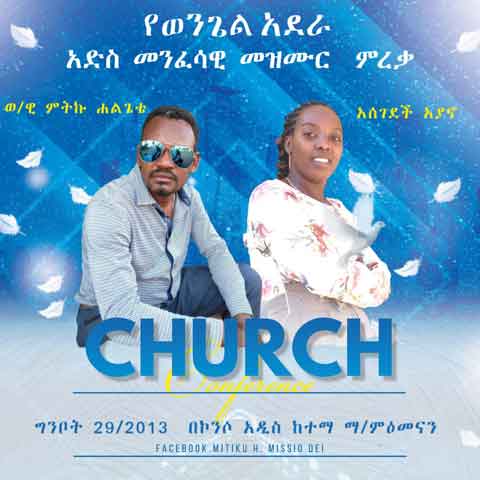 Networking
» Follow Mitiku Halgete on Facebook
» Visit Mitiku Halgete's YouTube channel
Audio (commercial and freemium)
» Check Mitiku & Asegedech's tracks on
Audio (YouTube)
KONSO
Video
KONSO
published in 2022:
AMHARIC
published in 2022: