Samson Ojulu Ameer was born in Gok village, Gambela Zuria District, Anywaa Zone in 1987. The biblical name, Samson, was added later in life. Samson's father passed away when he was only three months old, and his mother lost her life when he was seven years old. His grandmother tried to take care of him, but she could not support him. Samson went to a refugee camp to get accommodation and go to school, even though he is not from South Sudan. At age twelve, he started gold mining so he could get shoes and clothes. Three years later, Samson began taking some drugs and lived as a street boy.
When Samson became sixteen or seventeen, he started going to church to pass the time. He remembers a sermon on Lazarus (John 11). The preacher said, "If you believe in Jesus, even if you are dead, you can be alive again after that." Moved by this message, Samson came to receive Jesus Christ. In the same year, he became a member of the church and its choir.
Many Anywaa Christians focus on gospel songs rather than the sermon when they come to church. Therefore, the best way to preach seems to be through songs. Samson is a project manager at the local branch office of Mekane Yesus' "Development and Social Services Commission" (DASSC). Besides his profession, Samson wants to serve the church as a gospel singer and composer. He sings during Sunday services and spiritual conferences, both with the choir and as a solo singer.
Until today, Samson has composed more than 80 gospel songs in the Anywaa language. He recorded several tracks with Ojho Ojullo playing the keyboard. Their songs have spread even to the Anywaa diaspora in the United States.
Samson Ojulu resides with his family in Gambela town.
Albums
(1) Hyiwa bung gin ma lwaar ki go keet [(Anywa) I feared nothing on this world]. Cassette recorded by Assembly of God studio, Gambela 2005.
(2) Tie tio karre [He [God] will do it]. Cassette recorded by Assembly of God studio, Gambela 2011.
(3) Ouu u bëët [_ _ _ _' [English translation?]. CD recorded by Assembly of God studio, Gambela 2018.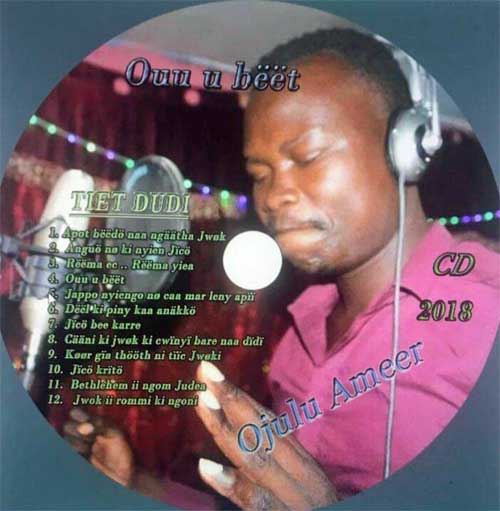 Networking
» Follow Samson Ojulu Ameer on Facebook
Audio (YouTube)
» Listen to songs
Video
Worship
2021:
Further reading
» Read feature on Sarah Bishop's web site.
— Samson Ojulu Ameer (2020)