[No author found yet for the profile.
Please use the contact form below to get in touch with us.]
Life and ministry
From his YouTube channel:
"Samuel Negussie, is an Ethiopian Gospel Singer and Songwriter. Samuel received Jesus Christ as his Personal Lord and Savor since childhood. His musical journey started when he was serving in Full Gospel church as a Worship leader and he later become a Worship Pastor and young elders adviser in Full Gospel church Addis Ababa [home of Mulu Wongel Church "A" Choir]. Samuel has released one successful album and his first album is entitled ' Beegzabhere Alem', released in 2016. Samuel has traveled around the world winning souls for the kingdom of GOD through his music. His unique gifts in song writing, composing, bible teaching and singing have giving him favor and platform to reach out many souls all over the globe."
He went to [Addis Ababa] Bole Senior Secondary School (from his FB page)
Albums
(1) BeEgziabhier alem [በእግዚአብሔር ዓለም, In God's world]. CD released by _ _ _ in 2016.
» Read lyrics of selected songs on WikiMezmur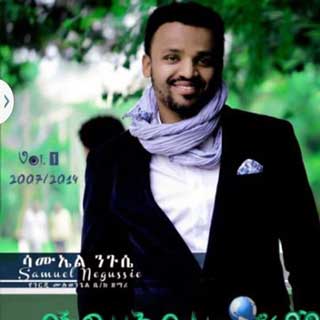 Networking
» Follow Samuel Negussie Demsew on Facebook
» Visit Samuel Negussie's YouTube channel
Audio (commercial and freemium)
Check Samuel Negussie's tracks on
---
Album (YouTube)
vol. 1 (use playlist):
Songs
» Listen to songs with lyrics
Video
» Watch songs and worship services
Interviews
published in 2015:
2020: