Zewde Addisu Chayna was born in Golbe, Amaro Special Woreda, Southern Nations Nationalities and Peoples Region, in 1960. He was a member of the choir of Muulla Mekane Yesus congregation (Golbe parish), but they sang Amharic songs at that time. Zewde has been working as an accountant in the service of the Mekane Yesus Amaaro and surrounding areas Synod since 1997.
Until 1982, the Koore Christians sang all their songs in Anharic. Then, pastor Tesfaye Wolde called a group of young people together to inspire them to compose songs in Koorete. They were given Bible verses to meditate on and write songs. Mr. Zewde was the first to compose Christian songs in Koorete, and he became a solo singer and was invited to sing at many churches and conferences [examples?].
During the Ethiopian Revolution (1974-1991), there were many challenges to Christian ministry that also affected Mr. Zewde. He often experienced God's help and protection, which gave his songs a remarkable depth. Zewde Addisu's songs still have a great impact and are well-loved today.
Album
(1) ጋለታይ ንያ ኤሎ (Galatay niya ello; 'May Praise Reach You'). Cassette distributed by Amaaro Mekane Yesus District [now Synod], 1996.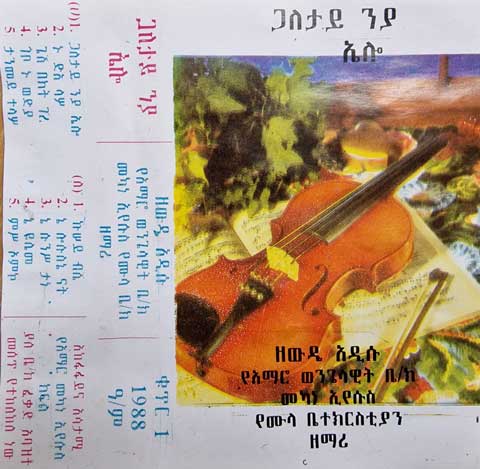 Lyrics
(Click on the x-button on the right side to get a full screen view)
Songs in hymn book
Yoowayte, Wonto nu galattoose! (2002)
Pages 13, 24, 40, 44, 45, 46, 50, 52, 55, 64, 88, 90, 103, 108, 118, 121, 126, 140, 154, 170, 191, 199, 205, 207, 210.
Networking
[No FB page?]
Audio
[Not yet on YouTube]
Picture
[any?]