[No author has yet been found for the profile.]
History and ministry
Najo (Qubee: Najjoo) aka Nejo is located in West Wollega Zone.
Rev. Martin (1898-1976) and Ingeborg (1898-1985) Nordfeldt were working as SEM missionaries in Nekemte and Nejo (about 100 km west of Nekemte) from 1924 to 1936.
1935: revised edition of Onesimos' hymn book (inluding part of the liturgy since many churchgoers didn't understand enough Amharic that time.
Revival during the Italian occupation (1935 – 1941/42).
SEM ran two pastoral training courses at Najjoo: 1949-1952 and 1955-1958 (instructors: Lundgren, Arén, Stjärne, et al.); see Magarsaa G., p. 24f
Information about remarkable choir(s) still missing.
Unpublished songs
» Open manuscript with 7 songs of Najo Mekane Yesus Choir
Pictures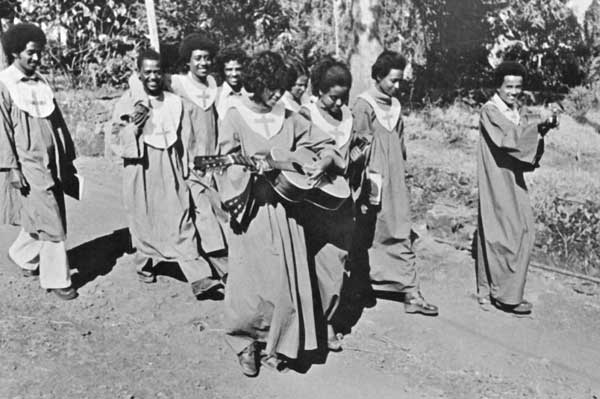 For further study
Arén's books
Magarsaa Guutaa (2011). From a Humble Beginning to Advanced Standing: A History of Mekane Yesus Seminary [1960-2010]. Addis Ababa: Mekane Yesus Seminary.
Nilsson, Marianne (forthcoming). "Spreading the Gospel in Vernacular: Hymn Translation, Composition and Circulation in Eritrea and Ethiopia", in book on Ethiopian Gospel Music (working title).
SEM material ?