Tsion Choir is the fruit of a revival movement started by Mulu Wongel youths in the Addisu Gebeya neighbourhood in Addis Ketema subcity (not far from Africa's largest open-air market, Mercato). In 1970, the group came together for prayer and worship in their parents' homes. They called their Sunday afternoon program Tsion Prayer House (Mount Zion is the place in Jerusalem where King Solomon built the temple). The number of worship attendees increased steadily. Many people were healed from illnesses, freed from demon possessions or started to speak in tongues. As their meeting places became too small, the group rented a house. In 1971, Tsion Prayer House turned into a congregation, Tsion Mulu Wongel Church.
One of the first ministry groups established in the new church in 1971 was Tsion Choir. The founding members of the choir were nine students: Debebe Lemma (now Pastor), Daniel Mekonnen (now Apostle), Amare Dawit, Girmayesus Demise, Sisay Frew, Shiferaw Mekuria, Solomon Bezawork, Negash Yami and Getahun Asnake. Usually, the choir met three times a week for prayer, practising songs and Bible study. The choir members complemented each other with their gifts: Debebe Lemma played accordion, Negash Yami and Getahun Asnake played guitar, the others were committed singers with a special gift of melody. The whole choir used to sing both the stanzas and the refrain together. Most of the lyrics were from Debebe Lemma and Shiferaw Mekuria.
At the end of 1972 the church rented a more spacious house with a compound around Semen Mezegaja neighbourhood (formerly known as Mesfin Harar Menged). Besides singing in their church, Tsion Choir used to sing at the worship services of other Mulu Wongel churches (Engl.: Ethiopian Full Gospel Believers' Church) as well as of the Meserete Kristos Church. Starting in 1972, Tsion Choir sang at the annual conferences organized by Debre Zeit Bible Academy. Upon invitation, they also sang at conferences organized by other denominations, e.g. at the Mekanisa Mekane Yesus congregation in 1974 and the Kuyera Kale Heywot congregation in 1976 (near Shashemene).
The topics of the Choir's songs include praise, endurance and comfort during persecution, the significance of Christ's crucifixion, the work of the Holy Spirit as well as discipleship. Tsion Choir had a lasting influence on other choirs in Addis Ababa and beyond. More than 100 of their songs are still sung in worship services of evangelical churches in Ethiopia.
Due to persecution, the church was closed in 1978, and its members united with the mother Mulu Wongel Church. As a result, Tsion Choir singers joined the Mulu Wongel Church "A" Choir.
Albums
(1) Yenefse nigus [የነፍሴ ንጉሥ, Lord of my soul]. Cassette recorded by Bisrata Wongel Radio Voice/YDCS and released by Mulu Wongel Church ('Ethiopian Full Gospel Believers Church'), Addis Ababa, 1976.
(2) Yeyesus fiker ayillewotim [የኢየሱስ ፍቅር አይለወጥም, The love of Jesus never changes]. Cassette recorded by Bisrata Wongel Radio Voice/YDCS and distributed by Mulu Wongel Church, Addis Ababa, 1976.
(3) Kalbarkegn al'leqehim [ካልባረከኝ አልለቅህም, I will not let you go unless you bless me]. Cassette recorded by Bisrata Wongel Radio Voice/YDCS and distributed by Mulu Wongel Church, Addis Ababa, 1977.
Q: Are there pictures / audio tracks of the
three cassettes mentioned above?
Songs in hymn books
የሙሉ ወንጌል ኳየር መዝሙር ??
Audio
» Listen to selected songs
Video
[Any video ?]
Pictures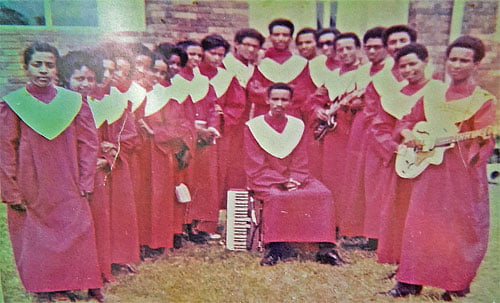 See also the pictures on the Facebook page "Mulu Wongel – Singers and Choir Members"
Further reading
Debebe Lemma. Amilko, mezmurina, mezamuran [አምልኮ መዝሙርና መዛሙራን, Worship, Music, and Musicians]. Addis Ababa: Solar Printing House, 2019/2020 (2012 AM).
— Debebe Lemma (Rev.) / Yohannes Lala