Hirut Bekele was born to Lieutenant Bekele Kinfe and Mrs. Tenagnework Mekonnen on October 08, 1942, in Addis Ababa. Hirut lost her father when she was very young and was raised by her mother and paternal grandmother.
When Hirut was old enough to go to school, she attended a traditional school (ቄስ ትምህርት ቤት). Then she enrolled in Kebena Adventist School, where she completed her secondary school education.
Her interest in music started at a young age. Hirut would sing around the house to her closest friends. Hearing her vocal ability, they would encourage her to take music more seriously and consider it a profession. Inspired by these comments, she decided to pursue music professionally. This proved difficult early on as being a musician had many negative connotations in Ethiopia. She had to be very discreet to make her dream a reality.
At the age of 16, Hirut went to an Army Force Orchestra (ምድር ጦር ኦርኬስትራ) for a vocal competition where she was selected on the spot. Her first song (in 1958), Ye-Hare Shererit [የሐር ሸረሪት, Silk spider], was a hit.
At that time, the Police Orchestra was looking for a young talented female vocalist, and she happened to be exactly what they were looking for. The Police Orchestra then plotted a secret mission to kidnap and hide her. After three months of an intense search, the Army Force Orchestra gave up on finding her and called off the search. Then, only then, she officially became a member of the Police Orchestra. She stayed with the Police Orchestra for 35 years until her retirement from the entertainment business in 1994.
Hirut collaborated with several famous artists, including Mesfin Haile, Alemayehu Eshete, Tadele Bekele, Melkamu Tebeje, Mahmoud Ahmed, Theodros Tadesse, and Kassahun Germamo. She also worked with highly regarded bands at that time, including Shebele Band, Walias Band, Dahlak Band, and Roha Band.
Many of Hirut's songs were released on singles and albums by Amha Records, Kaifa Records, Philips-Ethiopia, Genet Music Label, and Super Sonic Music Label during the 1960s and 1980s in Ethiopia. Hirut Bekele's oldies music was also included in the Best Ethiopian music collection. She received numerous awards (see extended profile linked to this page).
After Hirut isolated herself from the entertainment industry in 1994, she dedicated herself to the Lord as her personal saviour. She devoted her full time and life to spiritual service, travelling all over the country and abroad for more than 28 years, proclaiming the greatness of Jesus Christ to her Christian families and those who have not heard about Christ.
Hirut Bekele resided in Addis Ababa, Ethiopia. She was a devoted Christian and a member of Addis Ababa Meserete Kristos Church (መሠረት ክርስቶስ ቤተ ክርስቲያን). When she performed at her congregation, she was usually accompanied by Meserete Kristos Church band.
Hirut released three gospel albums. She wrote all her gospel songs, including the lyrics and melodies. The texts are usually about praise and worship of God, but also about redemption, forgiveness and the power of faith. With her lifetime of experience, poignant lyrics and impressive vocal range, especially considering her age, she was in a league of her own. This unique blend of qualities is why she was respected by the Ethiopian evangelical community worldwide.
Hirut Bekele passed away due to diabetic complications in May 2023.
Albums
(1) _ _ _ (title?) [_ _ _, _ _ _]. CD released by _ _ _ in _ _ _.
(2) _ _ _ (title?) [_ _ _, _ _ _]. CD released by _ _ _ in _ _ _.
(3) Yishurur hoy [ይሹሩር ሆይ, Oh Yishurur (?)]. CD released by _ _ _ in _ _ _.
Networking
» Visit Hirut Bekele Fanpage on Facebook
Audio
» Listen to gospel albums
» Listen to gospel songs with lyrics
» Check and listen to former albums and songs
Video
» Watch worship songs
» Watch documentaries
Interviews
probably recorded in the late 1960s or early 1970s:
2012:
2022:
[Interviews conducted in 2009 and 2015
no longer available on YouTube]
Picture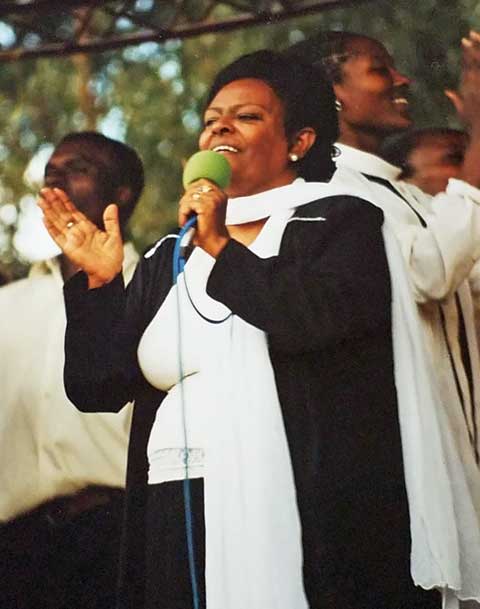 Further readings
"Biography of Hirut Bekele" (view online)
Tesfaye Lemma (2003). የኢትዮጵያ የሙዚቃ ታሪክ 1889-1993 (Ethiopian Calendar) [Ethiopian Music History from 1889-1993]. (See esp. p. 181)
Timkehet Teffera Mekonnen (2020). "The Police Orchestra and Prominent Musicians (1950s-1970s)". Online publication at academia.edu. [View online; see esp. pp. 13-14, 18)
---
Articles in Christian magazins, etc.?