[No author found yet for the profile.
Please use the contact form below to get in touch with us.]
Life and ministry
Karl Winqvist was born in 1847.
After ordination and two years as a seamen's pastor, Rev Karl Winqvist studied medicine in Edinburgh 1880-83.
He was married to Elsie Winqvist, née Hefter (1863-1957). Winqvist served as mission doctor in Imkullu (1883-95) and in Beleza (1897-1909).
Rev Winqvist and his team (i.a., Qeshi Marqos Girmai, Gebre-Ewostateos, Girma-Tsion Gebre, Haleqa Tewolde-Medhin Gebru and Tewolde-Medhin Gebre-Medhin) translated several biblical books and Christian publications into Tigre and esp. Tigrinya.
"On Sunday at 2 p.m. – an hour when most people would take their siesta – the Winqvists kept open house for their co-workers and any member of the congregation. After a cup of coffee they sang hymns, read the epistle for the day, talked about its message and prayed together" (Arén, Evangelical Pioneers, p. 324).
Rev Karl Winqvist passed away two days after the publication of the Tigrinya New Testament (in Dec. 1909).
Hymns in song books
Mäzmur sälam, 1st ed., 1900
Picture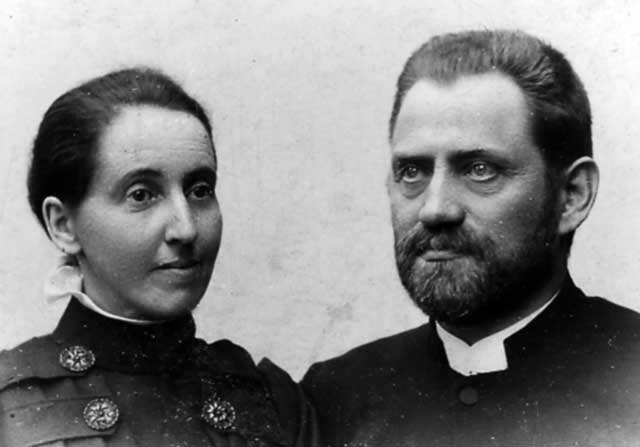 Further readings
Sources
Selected translations and publications by Winqvist and his team:
Tigrinya Reader (1897 ?)
[Sillabario nella lingua tigrinja / tradotto da dre C. Winqvist insieme con maestri indigeni. Asmara 1896. (Uppsala Univ.)]
Catechism in Tigrinya (1899)
[Temherti hāymānot krestiyān: be-ḥaṣir qāl;
2nd ed. 1912; 3rd ed. 1922; Uppsala Univ.]
Gospel according to Mark in Tigre (1899)
Hymnbook in Tigrinya (1900)
Four Gospels in Tigrinya (1900)
New Testament in Tigrinya (1909) [Uppsala Univ.]
Winqvist, Elsie. Med livet som insats: Läkaremissionen i Eritrea [Staking your life: the medical mission in Eritrea]. Stockholm: EFS, 1945.
Janér (née Winqvist), Elisabet (ed). Under heligt tvång: Till minne av Elsie Winqvist, missionär i Eritrea [Under holy compulsion: in memory of Elsie Winqvist, missionary in Eritrea]. Stockholm: EFS, 1958. [Read English translation online]
Literature
Arén, Gustav. Evangelical Pioneers in Ethiopia: Origins of the Evangelical Church Mekane Yesus. Stockholm: EFS; Addis Ababa: The Evangelical Church Mekane Yesus, 1978. [See esp. p. 288-92, 323-24, 333-37]
Iwarson, Jonas, and Alessandro Tron. Notizie storiche e varie sulla missione evangelica Svedese dell'Eritrea 1866-1916. Asmara: Swedish Evangelical Mission, 1918.
Lundström, Karl Johan, edited by Ezra Gebremedhin. Kenisha: The Roots and Development of The Evangelical Church of Eritrea (EC) 1866-1935. Trenton, NJ; etc.: The Red Sea Press, 2011. [s. index, p. 517]
Voigt, Rainer. "Winqvist, Karl", in Encyclopaedia Aethiopica, vol. 4, ed. S. Uhlig in cooperation with A. Bausi, 1188-89. Wiesbaden: Harrassowitz, 2010.