[No author found yet for the profile.
Please use the contact form below to get in touch with us.]
Life and ministry
» See profile of her late husband, Girmay Hadgu
sang at Addis Ababa Mekane Yesus Congregation
Albums
(Sheleqa Girmay Hadgu & Evangelist Tirunesh Yimer)
(1) _ _ _ [_ _ _, _ _ _]. Cassette recorded by _ _ _ in _ _ _
(2) _ _ _ [_ _ _, _ _ _]. Cassette recorded by _ _ _ in _ _ _
(3) _ _ _ [_ _ _, _ _ _]. Cassette recorded by _ _ _ in _ _ _
(4)_ _ _ [_ _ _, _ _ _]. Cassette recorded by _ _ _ in _ _ _
Songs in hymn books
Səbhat la'amlak (1973)
No. 113, 222, 297 [= song printed in God is Here, no. 1]
Səbhat la'amlak (2007)
No. 144, 402, 550.
Mert Mazmurat (1975ff)
God is Here (1981)
Networking
» Follow Tirunesh Yimer on Facebook
Audio (commercial and freemium)
» Check Tirunesh Yimer's tracks on
Gospel music (YouTube)
» Listen to gospel music albums
(Sheleqa Girmay Hadgu & Evangelist Tirunesh Yimer family choir)
Video
» Watch gospel songs
(Major Girmay Hadgu & Eva. Tirunesh Yimer family choir)
Picture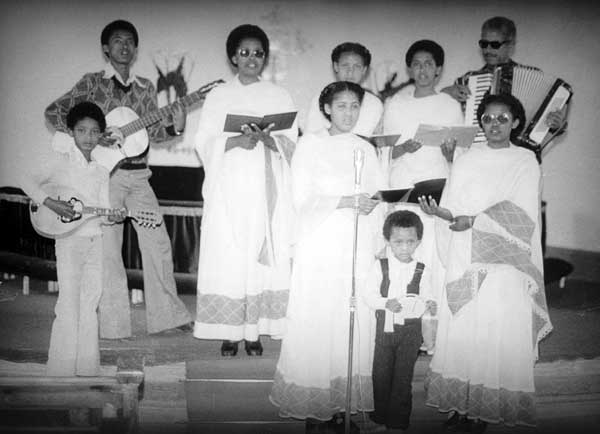 Source: Marianne Nilsson
Further reading
Timkehet Teffera (2020). Kibur Zebegna Orchestra / Imperial Bodyguard የክቡር ዘበኛ የሙዚቃ ክፍል. Online version, p. 17-18.
» Read paper on Academia.edu