Zenebe Senbeto Gumano was born in Turayite village, Karat Town, Konso Zone of the Southern Nations, Nationalities and Peoples Region in 1989. In 2002, he became sick and went to a health center for treatment. However, he was wrongly treated, went blind, and dropped out of school for six years. During that time, he received the Lord and miraculously began to compose gospel songs. Instead of being confined in the house, Zenebe joined a choir to serve God with gospel songs. Because of his singing talent, a church supported to go to Addis Ababa and to record his first album in _ _ _ (Q. year? solo or collective album?).
Zenebe said, "Even if my outside eyes are blind, my inner eyes are bright." In Addis Ababa, he inquired about a school where he could continue his schooling. A man named Solomon Soka promised him that he could stay in Addis Ababa and study until grade 12. Having graduated from Preparatory School with honors, Zenebe went to Dilla University and graduated with a B.A. in Sociology in 2015. Besides his university education, he studied theology and transformation leadership and served as students' council president.
After graduating from university, Zenebe worked in governmental and non-governmental organizations. Now he works in the office for women, children and youth of Karat and Surroundings district and also advocates and helps people with disablities.
Until 2014, Zenebe Senbeto released Konso gospel song videos in Konso language with the translated titles, "See forward," "God is great," "The gift of the Cross," "Get reconciled," "Add on" and "All things will be well." Together with his wife, he then released an album titled, "We stand for the Gospel."
Album
(1) _ _ _ [original title in Ethio-Semitic fidäls or Roman script?] ("We stand for the Gospel"). Cassette with Konso gospel songs released by _ _ _ (name of recording studio?) in Addis Ababa, 2008.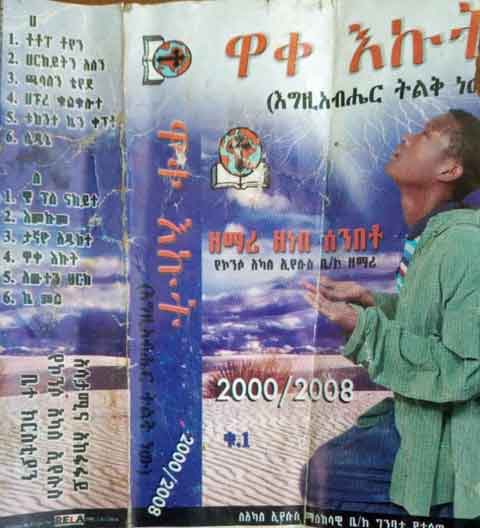 Networking
» Follow Zenebe Senbeto on Facebook
Audio
?
Video
» Watch selected songs