[No author found yet for the profile.
Please use the contact form below to get in touch with us.]
Life and ministry
From Ahrens / Ebise, In Memory, p. 166ff:
"Elizabeth Karorsa (1931-1997) was born as the third child in her family […]. When she was three months old both parents suddenly passed away in an epidemic. Elizabeth, her sister Qanatu [who became the wife of Dafaa Jammoo] and her brother Faji were brought up by American missionaries [in Dembi Dollo]."
[p. 167] Elizabeth went to complete her junior high school at the American Mission Girls' School [later known as Light of Life Girls' School] in Gulale. […] After finishing high school Elizabeth's first job was that of a teacher at the American Mission Girls' School [probably becoming a colleague of Abeba Kiflegzy, * 1929].
In 1954 she got married [… with] Captain Tessama Erenna, who was in the Imperial Body Guard under Haile Selassie and had fought in the Korean war [i.e., a comrade of Shaleqa Girmay Hadgu]. […]
Elizabeth earned a diploma in education from the University in Addis Ababa and worked for some time for the Commercial Bank in Ethiopia until she was awarded a scholarship in the United States. While pursuing studies in the States, she was disturbed to hear of the imprisonment of her husband, who was suspected of being involved in the coup d'état aginst Haile Selassie's regime [led by Germame Neway and Mengistu Neway (commander of the Imperial Bodyguard) in December 1960]. […]
[Elizabeth] returned to her former job as teacher at the American Mission Girl's School [during the leadership of its longtime directress, Dorothy Rankins]. After some time she was granted another scholarship to the American University in Beirut and obtained a Bachelor's Degree in History. […] After returning from Beirut she became the directess of the Bethel Mekane Yesus Girls' school at Gulale [in 1966]. She improved the school situation by putting [p. 168] new buildings and increasing staff and thus prepared the ground to upgrade the school from grade nine to grade twelve. […]
[p. 169] In 1976 Elizabeth was appointed as the first female Church Officer of EECMY and was a strong promoter of women's issues. […] Elizabeth as a longtime elder of the Bethel congregation at Addis Ababa organized modernizing and opening the congregation, so that the membership increased. Her role in the process of merging Bethel Presbyterian Church and EECMY in 1974 was important. […]
[p. 171] Elizabeth was one of the first Derg-refugees in the US. […] Elizabeth helped many refugees from Ethiopia, Djibouti and Somalia in the 1980s and 1990s and assisted in their re-settling process in Minneapolis, provided counselling to the new arrivals and orientation to the US system and helped them to adjust to the new places. […] As a member of Bethany Lutheran Church and an elder she asked her congregation to allow Oromo speaking refugees, who were without a congregation, to worship in the basement of the church. As a result the first Oromo-Speaking Lutheran Church in the US was established [Our Redeemer Oromo Evangelical Church of Minnesota], and many were to follow."
---
Elizabeth Karorsa was the school director at the time of the founding of
---
Missionaries who had a close relationship with Elizabeth Karorsa:
Dorothy née Russell
Jo Ann Griffiths
Picture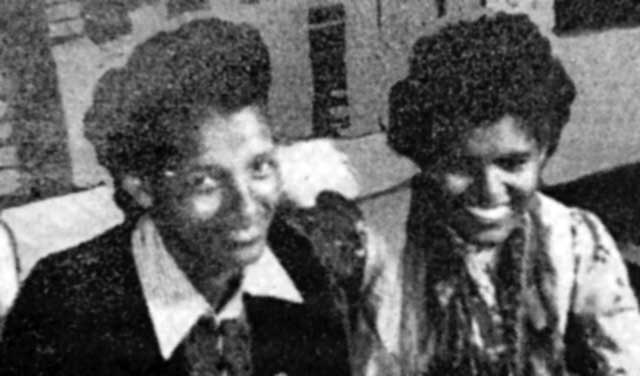 Further reading
Guide to the Dorothy L. Rankin Papers at the Presbyterian Historical Society [i.e., National Archives of the PC(USA)]
Ahrens, Christel, and Ebise Ashana (eds.). In Memory of Them: Women Witnessing to Christ in Ethiopia (1870-2019). Zürich: LIT, 2020.
Debela Birri. Divine Plan Unfolding: The Story of Ethiopian Evangelical Church Bethel. Minneapolis, MN: Lutheran Univ. Press, 2014.