[No author found yet for the profile.
Please use the contact form below to get in touch with us.]
Life and ministry
From Launhardt, Evangelicals, p. 102-103:
"Mammo Chorka was born on Hamle 12, 1894 E.C. (1902) in the town of Gidami in Western Wollega. In his youth he was taught at Sadi Guma by teachers recruited from Rev. Cederqvist's so-called 'English school' in Addis Ababa. During the 1920s Mammo worked as teacher at the American Presbyterian Mission School in Sayo, also tutoring in-patients in the hospital and conducting daily devotions.
When the Evangelical Church in Sayo was organized in 1934 Mammo Chorka became one of the elected elders and, after the Italian invastion, its spokesman. In 1938 the congregation elected Mammo for ordination. After a short training in Addis Ababa, due to political circumstances, he was ordained [p. 103] by Rev. D. Henry on 6 February 1939. Following his ordination he went back to Wollega, doing pastoral work mainly in and around Dembi Dollo, but also at the vacant Swedish Mission stations in Mendi, Nejo, and Bodji. These and other activities created suspicion among the Italian rulers.
On 8 August 1940 Qes Mammo and Qes Gidada Solon were arrested by the Italian authorities and taken to Jimma, accused of espionage for the British and for Emperor Haile Sellassie. Mammo was held in solitary confinement and cruelly tortured during the first three months. In the end he was sentenced to death. A few hours before his execution he was freed by British troops on 3 June 1941.
In 1943 Emperor Haile Sellassie requested Qes Mammo to take charge of the gold and platinum mines at Yubdo/Wollega. After consultation with the Sayo elders, Mammo accepted the government assignment.
In 1957 Mamo was elected member of parliament and moved to Addis Ababa. Besides his duties as parliamentarian he served the Gullale Bethel Evangelical Church and in the Shewa, Kaffa, and Illubabor Bethel Synod.
Qes Mamo, whose authority and judgement was valued, quite often was asked to serve as mediator between quarrelling persons or groups.
Mammo Chorka died in October 1965 and was buried in the Protestant cemetery in Addis Ababa Gullale."
---
Mammo was ordained in 1938 [p. 529: February 1939] as the first pastor of the Evangelical Church Bethel. (Arén, Envoys, p. 391 footnote)
---
Marianne Nilsson writes (forthcoming book on Ethiopian Gospel Music, ch. 2):
"Some of the songs [in Macaafa Faarsa] were translations from English and others were new-composed lyrics sung on traditional Oromo melodies, many of them in a responsorial form. The songs were composed before the Italian occupation of Ethiopia (1936-1941) by Qes Gidada, Qes Mamo and other Oromo" ministers.
Songs in hymn book
Macaafa Faarsa (1967; 1980)
Nr. _ _ _
Picture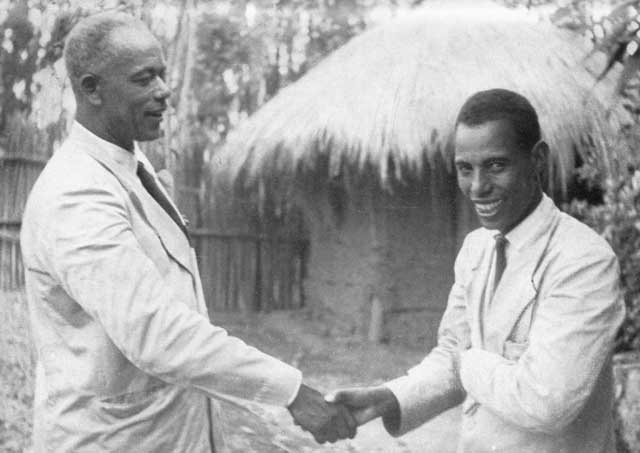 Further reading
Sources
Taylor, Mills J. (ed.). Mamo Chorka's Own Story. Philadelphia: United Presbyterian Board of Foreign Missions, 1942.
Encyclopedic entries
Launhardt, Johannes. "Mammo Č.orqa", in Encyclopaedia Aethiopica, vol. 3, ed. S. Uhlig, p. 717. Wiesbaden: Harrassowitz, 2007.
Other secondary literature
Arén, Gustav. Envoys of the Gospel in Ethiopia: In the Steps of the Evangelical Pioneers 1898-1936. Stockholm: EFS förlaget; Addis Ababa: The [Ethiopian] Evangelical Church Mekane Yesus, 1999. [esp. p. 390-91, 509, 523-24, 529]
Debela Birri. Divine Plan Unfolding: The Story of Ethiopian Evangelical Church Bethel. Minneapolis, MN: Lutheran Univ. Press, 2014.
Launhardt, Johannes. Evangelicals in Addis Ababa (1919-1991): With special reference to the Ethiopian Evangelical Church Mekane Yesus and the Addis Ababa Synod. Münster: Lit Verlag, 2004.