[work in progress]
The Addis Ababa Meserete Kristos Church (MKC) Choir was founded on April 28, 1973 [Q: at the occasion of the congregation's annual meeting?], thanks to MKC Evangelist Dagne Assefa and the leadership of the elders of Olopia [Q: Olympia? Street/Square in Bole, a southeastern subcity of Addis Ababa] Meserete Kristos Church. Mustefa Ali was the first musician to accompany the singers [Q: which instrument? Did he already support the congregation's singing before the establishment of the choir?].
The choir began its public ministry with special cloth (Q: choir robes?) at the church's [Q: MKC at large or the Bole MKC congregation?] annual conference in 1973 and was given the name "Addis Ababa Meserete Kristos Church Choir" at that occasion. In the beginning, there were 15 male and 12 female singers. A few months later, six persons, including Dereje Kebede, were added, bringing the number of choir members to 33.
[Q: Would you mind to tell the names of other choir members? E.g. of those members who contributed many songs, led the choir or sang solo parts of certain songs (Tamrat Walba)?]
During the Ethiopian Revolution, the choir faced many challenges until 1987. In 1974, the new government called all students for Edigate Beheberet Zemecha ("Cooperate Development Campaign"). That forced most choir members to leave their ministry in Addis Ababa, go to various rural areas, and stay there for two years. Furthermore, the atheistic ideology of the military junta influenced some choir members to leave their mini)stry. Cadres closed the church in _ _ _ (year?), and the choir lost its musical instruments. Many of its members were persecuted and migrated to other countries.
However, some committed choir members continued the ministry secretly in Christian families' homes. Young charismatic and energetic youth like Dereje Kebede, who contributed many songs, joined the choir and encouraged its members to face the challenges and continue their ministry. The choir welcomed youngsters who wanted to explore and enhance their spirituality through gospel music and who were committed to strengthening and maintaining the choir ministry's sustainability. As a result, the gospel choir is nowadays serving at a higher level. It has 30 members from various MKC congregations in Addis Ababa. [Q: Do they also serve during Sunday services in these different congregations – or do they usually sing in a specific congregation [where?])
Apart from Sunday services, the choir also performed on special occasions. In August 1973, the choir sang at an event organised in the National Lottery Hall (near the Addis Ababa Stadium) to pray and collect gifts for people suffering from the catastrophic drought. Until 1980 [i.e., the year the congregation was closed?], the choir also served every year at the Meserete Kristos Church's annual conference at the Nazareth Bible Academy. The choir sang at various spiritual conferences organised by the Ethiopian Evangelical Churches Fellowship and the Gospel Believers' Churches Council, the Mulu Wongel Church, Mekane Yesus Hiywot Berhan Church and even the Ethiopian Orthodox Church. As one of the most eminent ensembles of adult gospel singers in Ethiopia, the choir has been making tours to serve God the Almighty at various Ethiopia and abroad locations, including South Africa and the United States.
The choir is also informally known in the local Amharic language Beecha ("Yellow") Choir. The reason is that the choir members wear golden yellow, loose-fitting robes with a reinforced shoulder yoke and a stylishly designed white triangular neck with a bold red cross at the centre. The yellow colour symbolises sunshine, happiness, warmth and praise.
The Meserete Kristos Choir members consider it a great privilege and opportunity to serve in the Kingdom of God. They firmly believe that they are learning to lead and encourage others to have faith in Christ. The choir members aim at living themselves a life of faith and inspire, encourage and nurture one another during their group meetings through spiritual songs, prayer and preaching. Some singers even had the opportunity to minister through public pulpit ministry [Q: preaching?]
The choir has about 800 songs. Several cassettes, CDs, DVDs, and videos with the choir's songs were released over the years. Interested readers can watch seven albums (Q: music videos or lyrics only?) on the Android App "MKC Choir AA Mezemur Lyrics" or on TV and YouTube channels.
— Girma Engida / Yohannes Lala
Albums
(1) እንዴት ድንቅ አምላክ ነው (Endiet Denq Amlak New; '_ _ _'). _ _ _1987.
» Read lyrics on WikiMezmur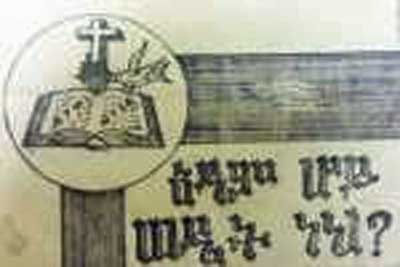 (2) አሜን በሉ ስገዱለት (Amien Belu Segedulet; '_ _ _'). _ _ _ 1993.
» Read lyrics on WikiMezmur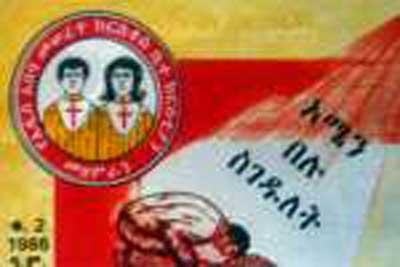 (3) አንተ ታላቅ ነህ (Ante Talaq Neh; '_ _ _'). _ _ _ n.d.
» Read lyrics on WikiMezmur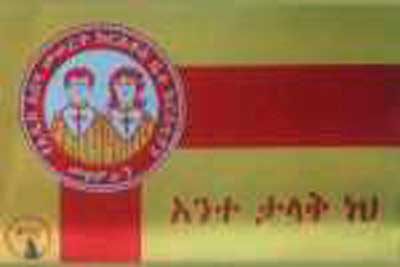 (4) ጌታ ክበር ለዘለዓለም (Geta Keber Lezelalem; '_ _ _'). _ _ _ n.d.
» Read lyrics on WikiMezmur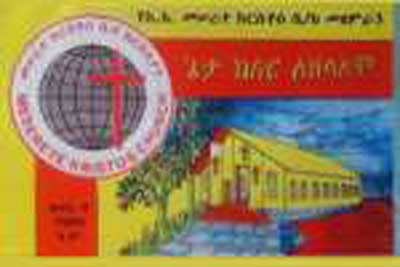 (5) ምሥጋና መልካም ነው (Mesgana Melkam New; '_ _ _'). _ _ _ 1998.
» Read Lyrics on WikiMezmur
(6) ኦ ግሩም ኃይል ነው (Oh Girum Hayl New; '_ _ _'). _ _ _ n.d.
» Read lyrics on WikiMezmur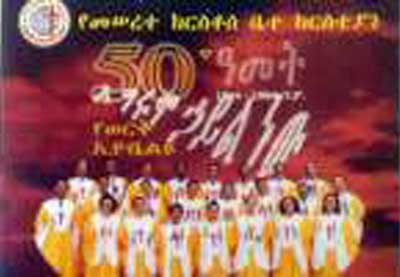 (7) የታመንኩትን አውቃለሁ (Yetamenkuten Awqewalehu; '_ _ _'). _ _ _ 2004.
» Read lyrics on WikiMezmur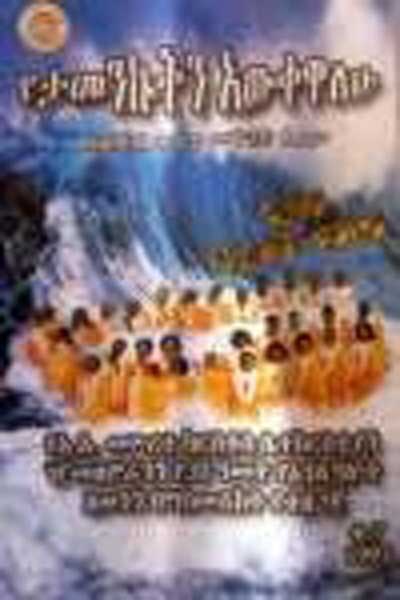 (8) ድሉ የጌታችን ነው (Delu Yegietachen New; '_ _ _'). _ _ _ 2012.
» Read Lyrics on WikiMezmur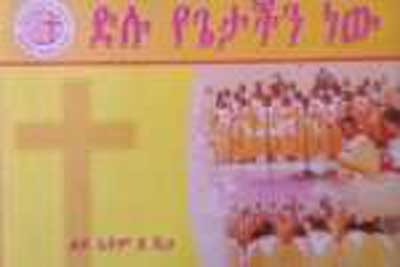 Songs in hymn books
Mert Mazmurat (1975ff)
Vol. 4:5, 4:8, 4:17, 4:28, 4:32, 4:34, 4:37, 4:44, 4:47, 5:1, 5:5, 5:7, 5:12, 5:20, 5:24, 5:30, 5:31, 5:34, 5:36, 6:30, 6:32, 6:36, 6:39
App (Lyrics)
» Install app from Google Play
Unpublished songs
» Open manuscript with about 25 songs.
» Open manuscript submitted by choir member Yeshitela Mengistu (44 pages)
Audio
Video
Picture
Bole choir, 1977 (-> Hege 1998, p. 175)
For further reading
_ _ _ Magazine for 40th anniversary [» read online]
Hege, Nathan B. (1998). Beyond Our Prayers: Anabaptist Church Growth in Ethiopia, 1948-1998. Scottdale and Waterloo: Herald Press. [Esp. pp. 159-160]
Yeshitela Mengistu (1983). The Story of the Meserete Kristos Church. BTh thesis. Addis Ababa: Mekane Yesus Seminary.