[No author found yet for the profile.
Please use the contact form below to get in touch with us.]
History and ministry
Tibebe Eshete (2009), Evangelical Movement, mentions a nexus between the first Pentecostal missionaries from North America and Ethiopian Protestant Christians in Entotto (p. 149f):
"The first Pentecostal missionaries to come to Ethiopia were three ladies from Elim Bible Institute. Bertha Dommemuth, Ruth Shipper, and Ellen French were missionaries from the Assembly of God Church of New York who came to Ethiopia in March 1934. […, p. 150] Bertha Dommermuth notes that following the Italian invasion of 1936, the awkward circumstances compelled them to move to the Swedish mission station (Entoto Mekane Yesus) compound, where they continued teaching and conducting their regular Sunday services. […]
By 1937 the missionaries were sending reports of revivals in Ethiopia in which they mentioned not only several people being saved, but some young Ethiopians experiencing the baptism of the Holy Spirit (footnote 17: Ellen French, "Revival in Ethiopia," Elim Pentecostal Herald 7, no. 51 (1937): 7. [Cf. Rice, Marie S. Sister Bertha [Dommermuth] Sister Ruth [Shippey]. Nashville: Jonathan Publishers of Nashville, 1984]).
Among the first young Ethiopians whom Dommermuth explicitly mentions as having received the power of the Holy Spirit was Fikre, the daughter of Qes Bademe Yalew, the famous Orthodox priest from Gojjam who played a prominent role in the establishment of the Mekane Yesus Church. If that is the case, one can consider the Entoto Christian youth groups as the first generation of the Ethiopian Pentecostal communities. The missionaries built good rapport with familes of Qes Bademe and Amanuel G. Egziaber (later doctor) with whom they had established an enduring relationship, though the missionaries do not indicate that they had embraced Pentecostalism."
---
Launhardt (2004), Evangelicals in Addis Ababa, p. 213ff:
"A new development took place when Ato (later Fitawrari) Baissa Jammo was elected member of parliament, moved to the capital and built his residence at Entotto in 1958. He started to gather people in his home, teaching them on Saturdays, preaching on Sundays, praying for the sick and training a youth choir in his house. Many people from Wollega and from the Gamo highlands, living in the area, attended that house church, since, according to Fit. Baissa and his wife, no Sunday services were held at the Entotto School dur- [p. 214] ing 1958."
"The case was studied and it was then agreed that a branch (preaching place) of the AAMY congregation be opened at the SEM Entotto School. The first preaching service in the provided classroom was held on 2 April 1960. Afterwards members were elected to serve on the Organising Committee. The evangelistic activities among the Gamo people in the Entotto area were intensified, committees for youth work, Sunday School, women's work and choir music were set up, and the number of believers grew." (p. 214)
"In 1970 Qes Lamesa Bato was employed as full-time pastor for the Entotto MY Congregation." (p. 216)
The Entotto Mekane Yesus Choir was lead by, i.a.
Albums
"L" Choir
አንተ ብሩክ ምንጭ ነህ (Ante beruk mench neh). Released in 1996.
Songs in hymn book
(any)
Unpublished songs
» Read manuscript with about 32 songs
(Eskil Forslund collection; early 1980s)
Networking
» Follow Entotto Mekane Yesus congregation on Facebook
» Visit Entotto Mekane Yesus congregation's YouTube channel
Audio
"A" Choir:
"C" Choir:
Video
"A" Choir:
[Video not yet available?]
"B" Choir:
---
Elias & Samrawit (1991/92 A.D.):
Pictures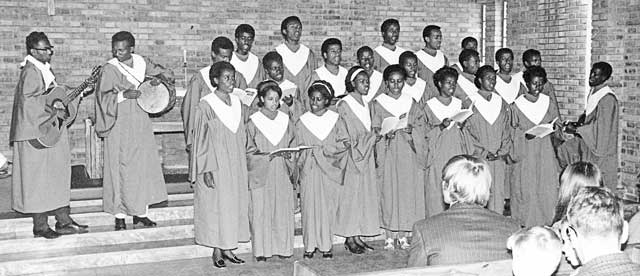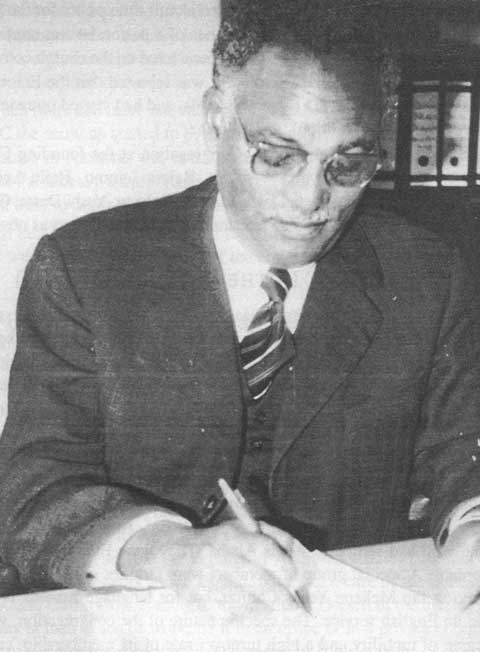 Further reading
Launhardt, Johannes (2004). Evangelicals in Addis Ababa (1919-1991): With special reference to the Ethiopian Evangelical Church Mekane Yesus and the Addis Ababa Synod (Studien zur Orientalischen Kirchengeschichte, 31). Münster: LIT Verlag. [See p. 213-214]
Tibebe Eshete (2009), The Evangelical Movement in Ethiopia: Resistance and Resilience. Waco, TX: Baylor Univ. Press.
Tilaye Kebede (1995). Lamp on the Mountain: History of Entotto Evang. Church, 1962-1974. Research Paper. Addis Ababa: Mekane Yesus Seminary.