Caalii Fufaa Baqaanaa was born in Boji Dirmaji, Babbo Xobbii province, Western Wollega, in 1936. A worship service at the Christian school in Boji touched Caalii's heart. He desired to serve Jesus, separating himself from the traditional religion. Caalii opened his first school in Babbo Xobbii in 1949. Since that time he served the local congregations by preaching and solo singing. Having completed his teacher training, Caalii opened another school in Kata Kami. From 1965-1966 he served as an evangelist in Amuma Degero.
Afterwards Caalii studied at Onesimos Nesib Bible College (Aira). In 1968, he was ordained and assigned as leader of the Jarso Parish. The military regime closed the local Mekane Yesus congregations from 1982 until 1989. Rev. Caalii was arrested several times since he continued to serve the pressured Christians at their homes. Even after his retirement in 1999 Rev. Caalii never stopped preaching and singing in his parish and at special occasions like the 100th anniversary of the Oromo Bible translation.
Albums
(1) Cass. 1. Solo cassette, released by EECMY Yemisrach Dimts Communication Services [YDCS], Addis Ababa, Sept. 1987.
(2) Cass. 2. Solo cassette, released by YDCS, Addis Ababa, 1987.
(3) Burqqaa Jiirenngaa ("The source of life"). Solo cassette, released by YDCS, Addis Ababa, approx. 1989.
(4) Misiraachoo Wangeelaa ("_ _ _"). VCD, recorded at Global Mercy of God Church, Nekemte; released by Arara TV 2021.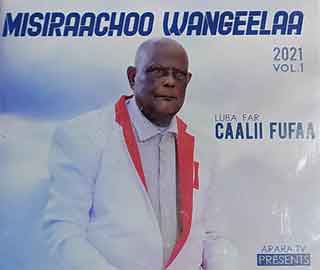 Manuscript
» View Rev. Caalii Fufaa's hand-written songbook
» View Rev. Caalii Fufaa's typed songbook
Songs in hymn books
Macaafa Faarfannaa: Galata Waaqayyoo (1998, etc.)
In the EECMY Hymnbook there are 38 songs from Rev. Caalii Fufaa:
No. 6, 13, 18, 19, 20, 24, 25, 27, 47, 56, 67, 68, 97, 98, 104, 105, 107, 114, 119, 120, 121, 122, 126, 130, 134, 135, 138, 164, 197, 215, 244, 255, 274, 291, 299, 305, 320, 324.
» Read lyrics
» Visit website with overview of the sources
of Rev. Caalii's melodies
Musical notations
Marianne Nilsson transcribed the melodies of 8 songs included in Macaafa Faarfannaa:
Source: Marianne Nilsson collection
God is Here (1981)
There are 2 songs from Rev. Caalii:
Source: Marianne Nilsson collection
God is Here no. 5 is the same as Faarfannaa 134, and God is Here no. 10 is Faarfannaa 135 (The melodies are a bit adjusted to fit the English words).
Networking
» Follow Sadirak Taasisaa on Facebook (nephew of Rev Caalii)
Audio
» Listen to selected albums and songs
Video
» Watch selected songs, worship services and interview
Pictures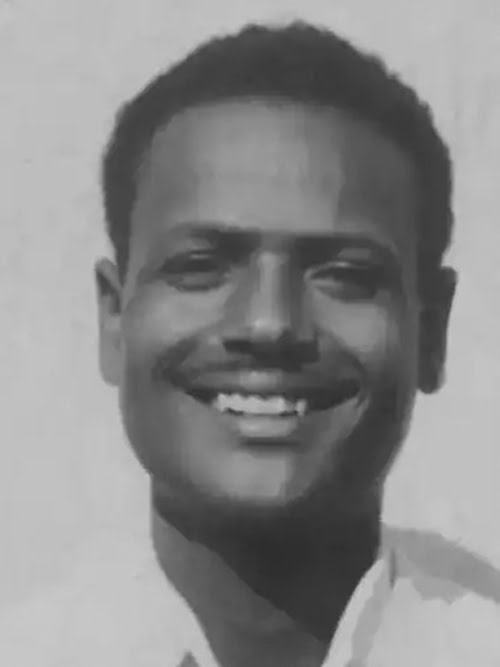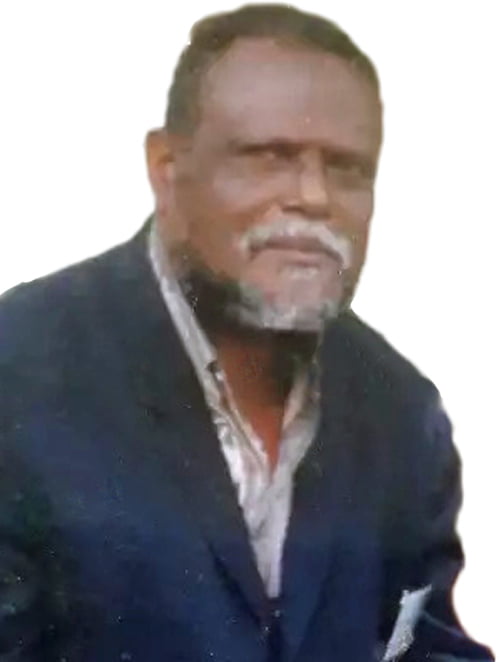 — Mezgebu Fufaa (Rev.)