[No author found yet for the profile.
Please use the contact form below to get in touch with us.]
Life and ministry
Olof [aka Olle] Eriksson (1878-1962) was a SEM missionary working in Kulluku (on the northern side of the Gash river), Beleza, Asmara, Addis Ababa and Nekemte between 1904 [Lundström: Nov. 1903] and 1936.
Karl Nyström and Olle Eriksson translated numerous hymns from Swedish into Tigrinya that were added to the new editions of the Tigrinya hymnal published in 1907 ?, 1923 and 1961.
---
Tentative timetable:
1909: Rev Eriksson focussed his work on producing Christian literature in Tigrinya
1920: Move to Addis Ababa
1927: Move to Nekemte
1932: Return to Addis Ababa
1936: Forced to leave Ethiopia
---
Arén, Envoys of the Gospel, p. 187ff:
"[p. 187] Eriksson was one of the Swedish missionaries whom the Italian colonial government had refused re-entry into Eritrea. […] Originally he had been commissioned to Kunama and had stayed there for about a year but suffered from constant attacks of fever which weakened his heart. Dr Karl Winqvist had therefore trans-[p. 188] ferred him to the highlands of Hamasen in April 1905. A year and a half later he was appointed district missionary in the Beleza parish and settled at Zagir, a village off the main route to the north, in order to learn vernacular Tigrinya properly. […]
In 1909 […] he was appointed director of the mission press in Asmera. The appointment allowed him to set time apart for literary activity. An impressive number of works in Tigrinya bore witness of his linguistic talent: hymns, daily devotions, sermon outlines, a book of homilies, a book of homilies, besides some 600 pages of tracts and pamphlets on moral, social and pastoral matters. […]
[p. 189] After wartime service as chaplain to seamen at German and Swedish ports Eriksson volunteered to go to Addis Abeba, since this appeared to be his only chance to return to Africa and to peaple among he felt at home. […]"
[p. 190-91] Ato Gebre-Kristos Tekle-Haimanot (1890-1932), a teacher for the upper grades at the school for the boys established by Cederqvist, became Eriksson's "personal assistant in the translation work" in 1920. [s. Gebre-Kristos' picture on p. 192]
"[p. 193] On Christmas Day of 1920 Eriksson had begun to chant parts of the liturgy in Amharic in the same manner as he used to do in Tigrinya while he was in Eritrea. The overwhelming majority of the evangelical community in Addis Abeba had an Orthodox background and appreciated an intonation of prayers and liturgical texts. For this reason liturgical chant henceforth constituted a regular feature of the main evangelica worship service on Sundays in Addis Abeba."
"[p. 205] Qes Gebre-Sillassé's pastoral ministry [at A.A. Mekane Yesus congregation] gave Eriksson more time for literary work. An enlarged edition of the hymnbook Sebhat LeAmlak was ready for the printing-press in 1924 [and printed in 1925]. The new edition had been prepared jointly by the Swedish Mission Bibeltrogna Vänner [Bible-true Friends] and the Swedish Evangelical Mission. It contained 135 hymns. Fifty-two were faken from Lundahl's hymnbook after due revision of all but six hymns. Of the new hymns fifty were attributed to Eriksson, ten to 'B.V.' (Bibeltrogna Vänner) and twelve to various Ethiopian hymnists. Five hymns might have Waldensian background, whereas the origin of the remaining five is uncertain. […]
[p. 206] The hymns of Sebhat LeAmlak were followed by eleven versicles taken from the psalms of David – in orthodox circles the most highly esteemed portion of Holy Scripture. The versicles were arranged after different patterns. The various short sentences might be said or sung alternately by the leader and the congregation, or by the women alternately with the men and everybody assembled. Like the hymns the versicles should be used both at home and in church.*
[* fn. 93: See 'preface' and pp. 202-208. No melodies are indicated. Mezmur Selam, the Tigrinya hymnbook of 1923, included the same eleven versicles but only for alternate singing by one person and a choir.]"
"[p. 216-217] In April 1925 the work of revising the Amharic Old Testament "was in full swing with Eriksson as chief reviser and Qes Badima as scholarly assistant."
"[p. 241] Besides devoting himself to Bible revision Eriksson remained active as writer and translator into Amarinya. He edited improved versions of his small early school-books and presented larger ones from time to time [including Barth's Bible Stories]."
"[p. 316] After the Nordfeldts had moved to Najo in October 1927, Eriksson had been forced to leave Addis Abeba and his work of revising the translation of the Amharic Bible in order to take charge of the congregation and the school at Naqamté. […] In church he preached with Gebre-Yesus Bambe as interpreter in Oromo and was pleased to note in his Journal that he was the first who chanted the liturgy at Naqamté. […; p. 317] The Evangelical Congregation gathered in the forenoon of Easter Sunday [in 1928]. Eriksson officiated and Onesimos expounded the Easter message. Onesimos liked to preach, took his time and was unequalled in presenting the Gospel to his countrymen."
"[p. 319] In spite of his daily involvement in the work of the hospital Eriksson could not well leave off his foremost interest. As often as he felt free to withdraw he busied himself with writing. He was fascinated by all the many [Amharic] puns, proverbs and similes that of old had featured dialectics in Ethiopia and still carried exceptional wight as agruments in courts of law, in mediations, and in witty discussion. […] In March 1929 he published 2,000 of these he himslef had collected in a 71-page booklet called Missalé ('Proverbes')"
"[p. 328] All during his stay at Naqamté Eriksson used to preach to the inpatients of the hospital on Sunday afternoons. In 1932 Gebre-Yesus Bambe began to take over. On these occasions Eriksson took Karlsson along for visits to homes in town or to places outside. Everywhere they seem to have been well received. A reading from Scripture and a prayer would conclude the social fellowship. Eriksson rejoiced when the newcomer [Karlsson] had learnt enough to chant the liturgy in the vernacular Oromo language and had begun to preach. In October 1932 Karlsson was given sole charge of the pastoral work and Eriksson returned to Addis Abeba. He remarked in his Journal that his years at Naqamté were among the best he had experienced."
"[p. 475] A month later [in July 1936] the Italian authorities issued an order of immediate banishment of Olof Eriksson, Sigrid Berggren and Tekla Nilsson."
Songs in hymn books
Tigrinya
Mäzmur sälam [መዝሙር ሰላም, Songs of peace], 1907 etc.
Amharic
Səbhat lä'amlak (1925)
Səbhat lä'amlak (1935)
Picture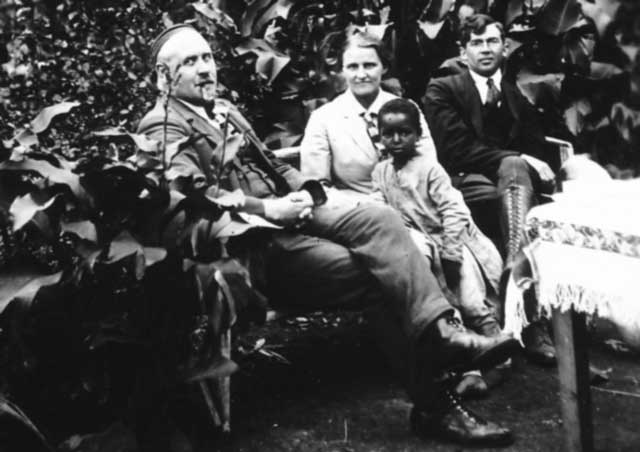 Further reading
1. Selected Sources
1.1 Swedish / English
Eriksson, Olof. Swedish Journal (deposited with the SEM Archives), 1904-1915; 1920-1933 [read Engl. translation online]
1.2 Tigrinya
Eriksson, Olof (ed.). Mazmur salām. Kalʾāy kafāli [Swedish transcription]. Asmara: Swedish Mission, 1914. [Tigrinska S. 137-291] [Uppsala Univ.]
—. Mazmur manʾesay. [Asmara: Swedish Mission Press,] 1923. [Tigrinya, 16 p.] [Uppsala Univ.]
—. Mazmur salām […] Asmarā: Misyon swédésé, 1923. [333 p.; Uppsala Univ.]
Rowling, C.F., and C.E. Wilson, Bibliography of African Christian Literature, London 1923, enlist amongst others the following publications (often with Italian titles):
Sia La Luce (On Christian Doctrine and Morals), 1912 [360 p.]
Sermoni Brevi, 1912 [142 p.]
The Giver of Promise, 1912 [140 p.]
Cio che deve Sapere Agni abessino, 1913 [128 p.]
Corn from the Field of God, 1913 [365 p.]
Credi in Gesu, 1913 [1913]
Tesoro del Cristiano, 1918 [430 p.]
Tracts, probably 1919 [600 p]
1.3 Amharic
Eriksson, O. and J. Svensson (eds.). Sebḥat la-ʾAmlāk [Swedish transcription]. Asmara: Swedish Mission Press, 1925.
Röstin, S. and O. Eriksson (eds.). Sebḥat la-ʾAmlāk [= Yäbetä kərəstiyan mäzmurat?]. Asmara: Swedish Mission Press, 1935.
2. Literature
Arén, Gustav. Envoys of the Gospel in Ethiopia: In the Steps of the Evangelical Pioneers, 1898-1936. Stockholm: EFS förlaget; Addis Ababa: The [Ethiopian] Evangelical Church Mekane Yesus, 1999. [esp. p. 187-189; cf. index, p. 559]
Lundström, Karl Johan, edited by Ezra Gebremedhin. Kenisha: The Roots and Development of The Evangelical Church of Eritrea (EC) 1866-1935. Trenton, NJ; etc.: The Red Sea Press, 2011. [s. index, p. 508]
Nilsson, Marianne. Chapter 2 in forthcoming book on Ethiopian Gospel Music.